Pros and Cons of Hard Wired Smoke Detectors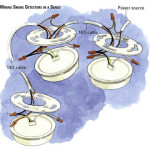 Most of the hardwired smoke alarms are connected to a power source mostly 120V alternating current. The batteries are provided as back up in case of main power outage. It is worth noting, that there are countless of smoke detectors that are not hard wired smoke detectors – they are only battery operated.
Advantages of hard wired smoke detectors
Hard wired smoke detectors have several additional benefits unlike standard battery operated smoke detectors. Their primary source of power is your main electrical connection. Therefore, there is no uncertainty of faulty batteries or times that your smoke detector has no power; you are guaranteed of a functioning smoke detector at 100% of the times. This is very important and a requirement to comply with fire safety regulations.
On the other hand, there has been a great technological breakthrough in the recent past and battery operated smoke alarms can also ensure that your smoke alarm is functional always. They do this by designing an electronic system that monitors the health of the batteries. When the batteries have low level energy to sustain the smoke alarm, a chirping sound is activated that reminds you that you need to change your batteries.
The other advantage of hard wired smoke detectors is the ability to be interconnected with a series of other smoke detectors in the house. Lets assume you have several rooms that you have installed your hard wired smoke detectors. There is an extra cable that allows you to interconnect all your alarms. Why is this helpful? When a fire starts in another room (where you are not physically present) and the smoke detector in that room is activated. You may be unable to hear the alarm sound immediately. But time is of essence when there is fire! The interconnections are done to enable and trigger all alarms. Thus, irrespective of your location, you will definitely hear the alarm sound of the most immediate hard wired smoke alarm near you. It saves a lot of time for escaping because one does not need to wait until fire builds up into your room for the closest alarm to sound.
Again, with current breakthroughs in fire alarm technologies, this hard wired smoke detectors interconnections' is traditional. It works okay, but there is a lot of wiring involved. You may need to involve a technician to do all that. It is even more disappointing if you are installing this kind of connections after your home has been built and finished. Since some of the cables have to be run through your walls, drilling your already decorated and nice looking walls is inevitable.
To solve all these problems, you need wireless smoke detectors for interconnections and linking. They could still be hard wired smoke detectors supported by your 120V AC power with additional battery back up, but you could save yourself from the costs and hustles of running cables just to deal with interconnections.
We introduce you to some very good products of hard wired smoke detectors that will not only maximize your protection from fire related hazards, but also save you money, time and ease of using them.